Posted by AJC
May 24, 2008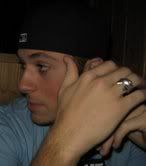 Meet Josh!
Hi, my name is Joshua and I'm from New York State.

I'm 24 and currently working for a pharmaceutical company, a job I took soon after graduating with my bachelor's degree.

After work I transform into an entrepreneur, taking on any and every obstacle on my way to financial freedom. It's during this time that I work on my e-commerce web site, and blog.

Its businesses like these, as well as wise investing that will grow my net worth, and eventually allow me to retire early.       

During this journey, never quitting and taking necessary, calculated risks are the principals that will guide me toward success.
______________________________________________
What is 7 Millionaires … In Training! all About?!
Recently, I sent out a Casting Call (you still have time to apply!) for what I call my "Grand Experiment" … a real attempt to create 7 Millionaires in just 7 Years!
My desire is to 'prove' that my methods for real wealth are replicable (you can read about them on my blog: How to Make $7 Million in 7 Years) – naturally, not by everybody, but by anybody with a dream, a desire, a will, and a way. If you supply the first three, I will help light the way …